The best award-winning hair salon in Malaysia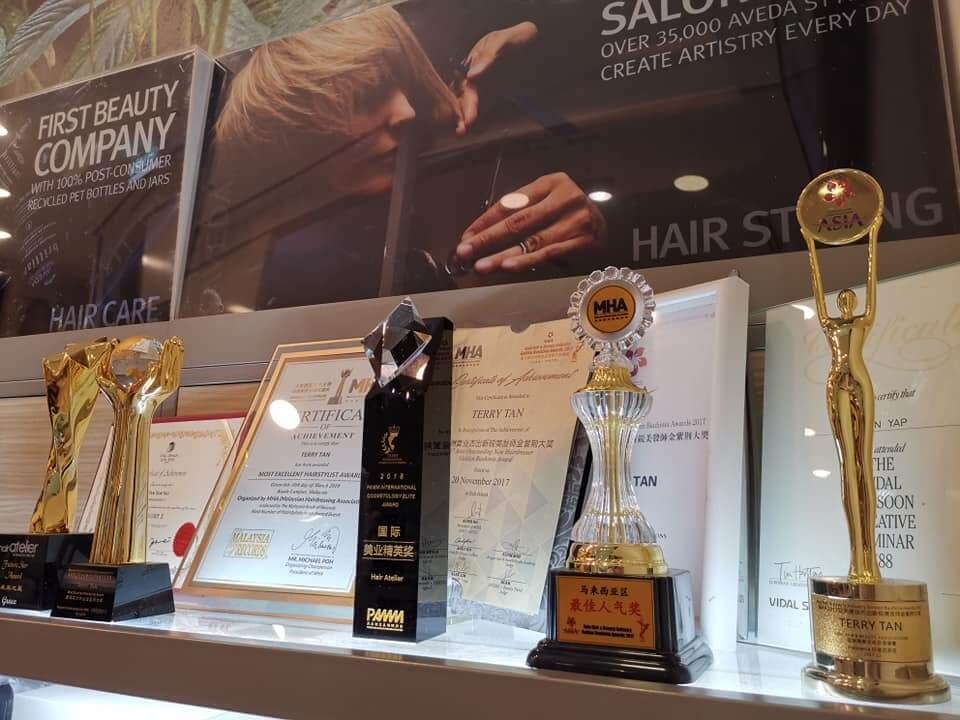 We aspire to be the best at what we do at the completely trendy hair salon in Malaysia, and we are happy that our experience in the hair industry is constantly being recognized. Our awards are wide-ranging and acknowledge our ability to make beautiful hair cuts, designs, and colors, as well as being an outstanding employer with a talented team. Our main aim is to ensure that our clients leave our hair salon with spa treatments, hairstyles, and colors they love, and we will strive to serve you the best in customer service and award-winning hairstyles.

We are the award-winning hair salon near you

Hair is an essential part of our bodies and our personalities, and it is important to take care of it. It's not simple, however, to do that on your own. From time to time, you'd need the help of a professional to make sure your tresses look healthy. And if you want to know about the best hair salon in Malaysia, you must read this article to find out more.

Choose a professional on the basis of their expertise

Men often make the mistake of confusing barbers with salons. The former is only trained to do simple haircuts, while the salon has the expertise and training to give you the new hairstyles to match your personality. Women profit from the salons because the hairdressers will work closely with them to give them a hairstyle that brings out their personality. However, that is only possible if your salon has the expertise you need to manage all sorts of hair and hairstyles.

Always stick to one hair salon

Don't switch between hair salons if you'd like your hairstyle to stay consistent. Pick the one that suits your needs, and then stick to it. Don't be drawn to two, three, or more salons because they have amazing discounts. Visiting a hairdresser on a regular basis will build a relationship that will help you communicate effectively what you want. Working with one expert is much simpler than trying to explain yourself to many others.

Your preferred hairstyle has to suit your lifestyle. The perfect hairstyle in your particular professions could also benefit in the production. Our award-winning hair salon supports to provide hairstyles that have invested many filmstars to attract a huge number of followers who try to copy their hairstyles like rock stars, sportspersons, actors, etc. After all, exploring your hair by styling it once in a while is not a bad idea!

The talented team at the Hairatelier hair salon in Malaysia is proud to offer an excellent quality of service to all of our customers and it gives us great pleasure to see you look and feel your best at our salon. We have won a number of hair salon awards, which are a further indication that we have some of the best hairdressers in Malaysia. Organized in 1989 by award-winning hairstylist Aaron Yap, Hair Atelier is a full-service hair salon performed to consistently providing outstanding customer fulfillment by offering unique personalized services, quality products, and friendly surroundings at an affordable cost.

We're taking this additional time during this MCO to give an intro to our wonderful team members.

1.Lenneth Lim - Aveda Global Fashionista Award Champion 2016

His creative mind has never failed to inspire us and we can never be more proud of him.

2.Sam Lai - Aveda Global Fashionista Award 1st runner up 2016

3.Terry Tan - Aveda Global Fashionista Award 2nd runner up 2017

4.Nick Tan -(Female most stylish hair design award winner 2018) Shiseido Professional Beauty Innovator Award - Top 10 Finalist 2018

5.Nick Tan - Female Cover Modelsearch - Most Stylish Hair Design Award 2018

6.Terry Tan - Aveda Digital Fashionista Award Champion 2019

Our award-winning hair salon Hairatelier extends a wide variety of hair services at reasonable prices, from the men's and women's haircuts and hair color services to cooling treatments and the exclusive event looks. Our expert stylists will assist you in obtaining the hairstyle and services that suit your day and life, whether it's a simplistic trim or a new look. Hair atelier advances high-quality haircuts from highly trained, professional stylists, for both adults and children. You're going to be sure to have an up-to-date, on-trend style that is perfect for you. From young to adult, everyone prefers to go for trendy hairstyles that can alter their overall personality decently. Investing in a professional hairdresser's haircut services would also help you fulfill your haircut demands. Many people are aware when it comes to going for a haircut because once the haircut is finished you can't cover it up and the hair loss on the scalp region can take months to reappear. So it's best to invest in a professional hairdresser's services and who knows about the latest haircut that can suit their clients' face style.

Hairatelier is the best award-winning hair salon in Malaysia, here our professionals will provide you with the best hair styling services. To know more details about us you can visit our official website.