HairAtelier Handling the SOP Guidelines Like a Pro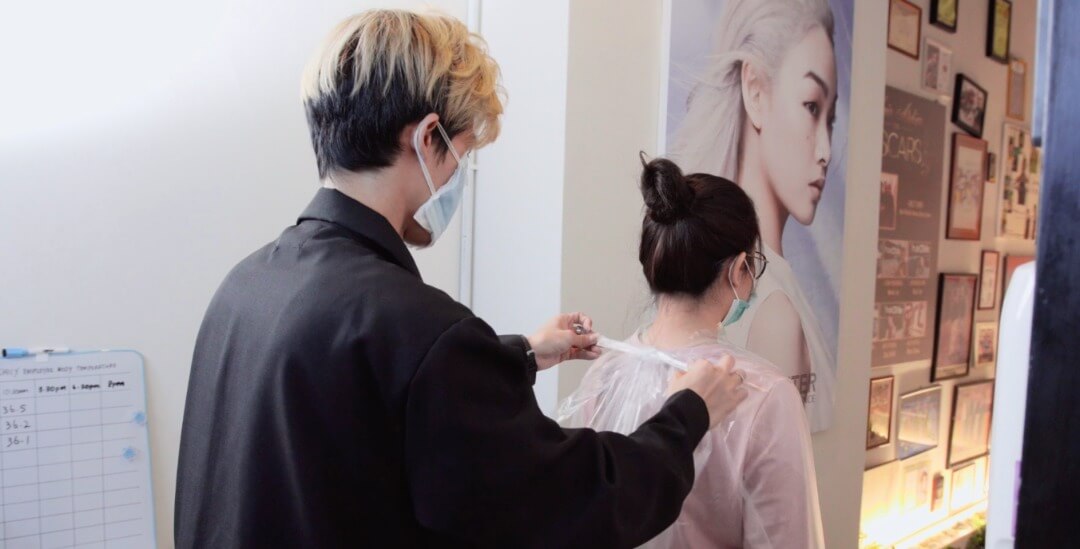 As the new SOP guidelines permitted hair salons and hairdressers to open up their business, strict guidelines were imposed that all salons were to abide by to conduct business. Hair Atelier is one of the very few salons in KL, that cares for its clients and has taken the imposed guidelines with utmost seriousness.

Reliable, secure, successful- welcome to the new normal

It needs passion and dedication to reopen the hair salon, and we've got it in spades. Hair Salon owners will also have to adhere to strict new health and safety restrictions, have complex messages to interact with customers and handle a new way of interacting with their teams. Here at HairAtelier, we are following the full salon reopening guidelines and we are back in the business for our customers.
The post-COVID-19 protocols that we are implementing at our hair salon
Hair salons must be subject to strict SOPs and guidelines to continue services. In the meantime, Malaysians who have grown their hair will finally have their hair cut professionally again. SOPs would have to be placed for specific services such as hair cutting, hair washing, hair extensions, and hair care. HairAtelier, the hair salon in Malaysia, handling the SOP guidelines with the clients' safety like a pro! We already had SOP preparation for all employees before the salon was reopened. Adapting to the 'new normal' and taking care of strict do's and don'ts, we routinely conduct complete sanitization and deep cleaning. We have equipped each staff member with personal protective gear. We hold regular temperature checks for all customers and employees, plus we also review each customer's travel statement before providing any services. We do not allow customers to enter without face masks and follow social distances where we have adapted to distance service spots and limit appointments online. To do this, we have started an online system to send appointment requests directly. We have also made arrangements for single-use items such as bottles of water, gloves, napkins, service accessories, towels, linen, headbands, etc., and their proper disposal.

• Every hairdresser near me will wear a face mask, apron, and gloves before attending any client. Such preventive products will be disposed of properly.

• Here at HairAtelier, we will also provide our clients with a disposable apron that can either be thrown away or retained for re-use by the client later.

• High-risk groups, such as senior citizens aged 60 and over or children aged 12 and under, must have a previous hair salon appointment. At this time, no other client can be present when such services are offered to high-risk groups.

• Other than that, we'll also do the daily SOP of temperature monitoring, recording client data, and providing hand sanitizer.

• To minimize contact between people, we are starting to use technology for tasks like digital payment processes that used to be done manually. It makes things easier for both clients and the hair salon.
Protective gear, temperature checks, by-appointment service in place

The COVID-19 pandemic has led people to talk about a whole new hair salon experience, due to a growing consciousness of hygiene and cross-contamination. Social media have already shown how salons adapt to a new norm_ head-to-toe plastic suits, constant disinfecting, and crowd control. The re-standardization of hygiene and salon capacity will be a change in the seismic industry. There are three main areas in which changes are reflecting: procedural (introducing strict standard operating procedures), technical (so there is little to no touch), innovation-led (new tools designed to decrease infection). Before visiting the hair salon, pre-booking is necessary so that the area is sanitized as entirely as possible. The salon can send an online questionnaire for the client to fill out, asking if they have recently been sick or around people who have been ill. Some of the expected changes include space-out appointments without walk-ins, a health history review of both the client and the hairdresser, contactless e-payment of bills, repeated hand-washing and sanitizing by the hairdresser, clean-ups, and fumigation of space before and after the services, and more. Close-contact haircare processes will be replaced with minimal touch equipment. Keratin treatments, cleaning, scrubbing, and massage will be carried out using equipment developed by industrial brands. Ideally, anything that touches the skin must be sterilized. Hair salons in Malaysia have been equipped with protective gear for their teams and training them on how to use them and how to adapt to the 'new normal.'

According to the guidelines approved by the Government, by maintaining the highest levels of hygiene and disinfection procedures, we follow protocols and guidance to ensure the health of our employees and clients. Here at Hairatelier, unlike anything else you've ever seen, we promise a unique experience. We use unique methods to obtain outstanding results for the hair. We're remaining up to date with all the industry's ever-changing standards, processes, and trends.