ICONIC HAIRSTYLES: HAIR CARE FOR SHORT OR LONG HAIR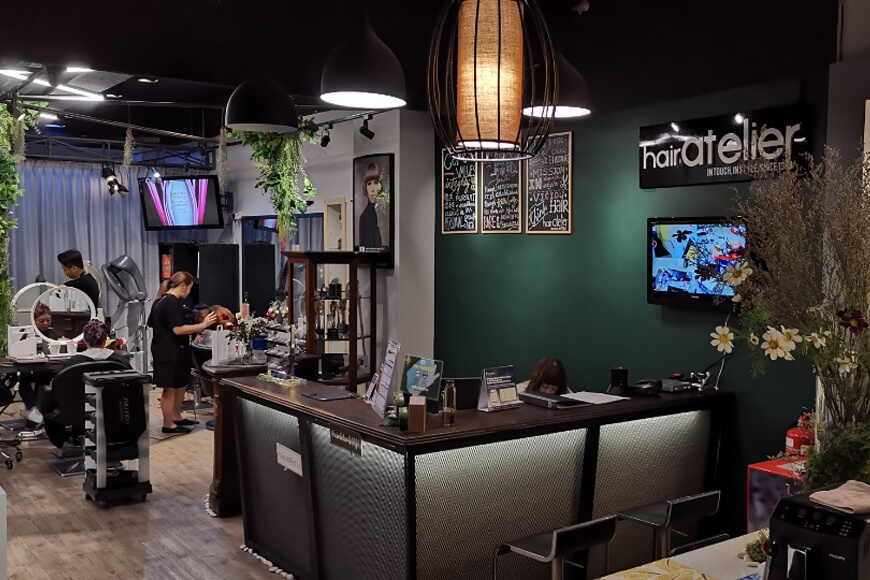 A little lovely comment from a folk makes our day wonderful. But life becomes more amazing when we meet the correct makeup artist and hairdresser. The hair is the most valuable ornament for women as well as men. Barber is also one of the latest trends in men's hair cut that boosts up your confidence. Now, Hair Atelier is one of the leading names in the hairstyles for short and long hair in Malaysia. An award-winning hairstylist, Aaron Yap, founded a full-service beauty salon - Hair Atelier, in 1989.

Hair Atelier is dedicated to the compatible delivery of hairstyles for long hair and short hair every customer's satisfaction by out-giving their excellent services and quality products and a pleasant atmosphere at an affordable price. Hair Atelier groups constitute a team of professional hairstyles. They provide services for women, men, and children. We provide different kinds of hair services for our customers which included cleansing, hair cut, hairstyles, hair coloring, permanent curling, straightening, and different kinds of hair and scalp treatment for short, medium, long and extra-long hair.

We also have hairstylists from different kinds of levels like a creative stylist, leading creative stylists, directors, and creative director. We are using international well-known hair products from the US and Japan which are Shiseido Professional & Aveda plant-based products. With 20k plus satisfied customers over the country, this proof that they're a trusted professional hairstylist team that you can rely your hair on, and this is also one of their biggest awards.

The award-winning hair salon Hair Atelier have one and the only purpose, it's to fulfill customer's dream which has been part of their passion in serving each and every one of them. Hair Atelier team and Aaron Yap makes customer's best fetish confidently. Therefore, Aaron and his creative and talented team have received so many awards in hairstyles for long and short hair. Hair Atelier recently won the PAMM international Cosmetology Award and Best Development Hair Salon Award because of using the best hair products. In 2017-2019, they got AVEDA Best Services Excellence Award for their best services. And also they got the HWT Prestigious Service Quality Award for their quality service. In 2011, they got Judge of Cosmobeaute Asia Award.

In 2009 they are one of the Committee and Treasurer in Malaysia Hairdressing Association (MHA). And also the award winner of Aveda Fashionista Award, Aveda Digital Fashionista Award, Sebastian Xtah Competition, Shiseido Professional Beauty Innovative Award and Female Modelsearch Most Stylish Award. They were also the Finalist in Loreal Color Trophy Award and Sebastian Design Artist Malaysia and Guest stylist for magazines, press conferences, newspapers, online news and conducted hairstyles demonstrations, trend vision creators of Wella & Sebastian. They're also the Color ambassadors of Aveda brand in 2017-2020.

In 1996 onwards, they're literally judged in many Hairstyles competitions and Barber competitions. They were a finalist of the Golden Scissors Award Asia Pacific and they achieve their very first award in 1993, the 1st Golden Scissors Award. An award-winning hair salon Hair Atelier by their outstanding fame has got too many interviews by nationwide newspaper and disclose on TVs such as NTV7 breakfast show and Nona, TV3 and in so many beauty magazines like Marie Claire, Wanita, New Tide, Style, Women's Weekly, Citta Bella, H4U4ME and many other publications. They are very grateful and gentle by the impact they have to over numerous men women and kids each and every month to a year.

They hope you all love their salon's atmosphere and their services and they honor your recompose. You can always attain them by contacting their branches - Amaya Maluri (039288184), Danau Desa (0379833848), PJ Jaya One (0379557848), Sri Petaling (0390553980), MyTOWN (0392029948). You can't monitor your hair, but your hair was a hoax on your head to always remind you to take care of your hair. You always have to remember one thing that life is not accurate as your expectation but you can make your hairstyles as what you desire. The hair artistry is a very effectual industry. It provides a complete accomplishment to everyone and when it comes to an award-winning hair salon, they solve every problem of their customer successfully. As the hairstyles industry is now developing very successfully, you don't need to waste your valuable time to think about hair changes and image changes as they will take care of it for you and provide you the best advice. The barber and hairstyles industry now is the most important part of your life and society. They help you to feel excellent about yourself and you can't set any charges on that.