Pamper Your Superhero Father At Hairatelier This Father`s Day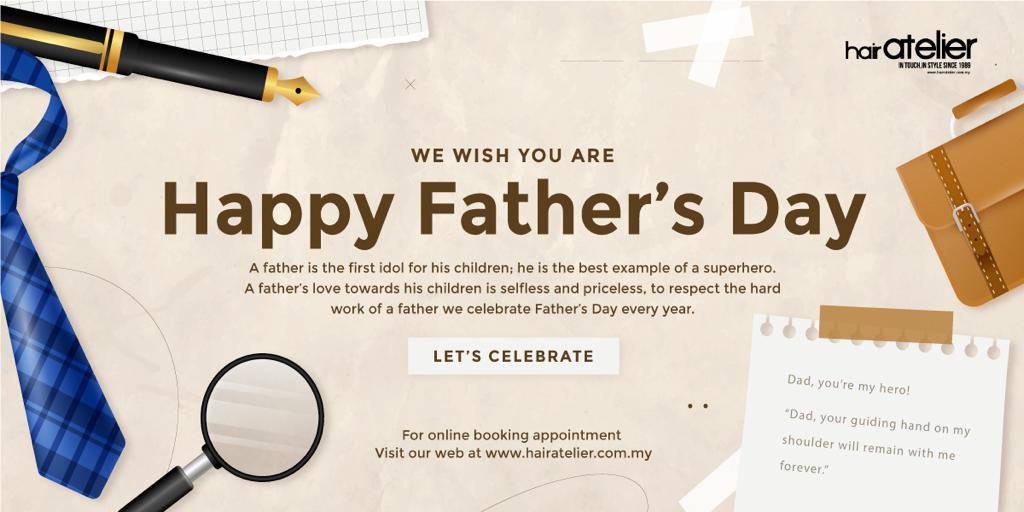 A father is the first idol for his children; he is the best example of a superhero. A father's love towards his children is selfless and priceless, to respect the hard work of a father we celebrate Father's Day every year. It is true that deep inside a grown-up child, they never forget the amount of sacrifice a father makes in terms of raising his children. Though we do not need any special day to show our love towards them but still this Father's Day, let's surprise them with a little bit of pamper and care at Hair Atelier, the best Aveda hair salon, located in Danau Desa, Sri Petaling and Mytown.
Bored from following the same routine every day, a father deserves some amount of relaxation and peace of mind. These days, a father must make no compromise in terms of looks, so what better than rejuvenating the entire look and identity at Hair Atelier, the best Muslimah friendly salon in KL. Look no further and make no delay in visiting Hair Atelier, the best hair salon in KL for pampering your father this Father's Day. A comfortable and pleasant hair salon where all dads can indulge in experiencing the best of hair wash and blow, hair color, haircuts, hot stone aroma, aromatherapy shoulder massages, intensive hair care treatment, intensive scalp treatment, spa retreat ceremony, various treatments for anti-hair loss and so much more.
At Hair Atelier we are always prepared and ready to appreciate the efforts of dads in making the family bond stronger day-by-day by pampering them with the best of the hair services in KL. Children may look this as a booster and a token of appreciation for their dads, for never losing their self-confidence. We feel that maintaining good looks not only just boosts the mental spirit but also brings in a lot of positivity in the personality of dads. Be it simple or flashy, we at Hair Atelier are constantly thriving to provide best of the services and stay ahead the industry. These days personalities are being judged by the outer looks of a person, so it becomes quite essential to maintain the overall appearance so as to create a huge impact on personal, social and professional lives. Moreover, we make you feel confident of yourself every single day and we also help you to make a statement with your personality.
You may make your reservation before to pamper your dad and have a fresh hairdo with our team at Hair Atelier this father's day - https://www.hairatelier.com.my/.

Our branches:

Amaya Maluri, Cheras 0392818848
Danau Desa 0379833848
Petaling Jaya, Jaya One 0379557848
Sri Petaling 0390553980
MyTOWN Shopping Mall 0392029948