Award-Winning Hair Salon in Petaling Jaya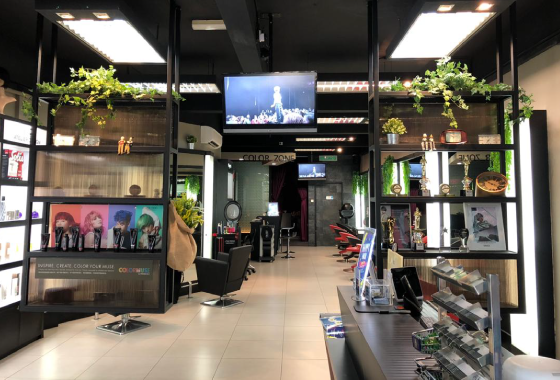 Founded in 1989 by award-winning hairstylist Aaron Yap, Hair Atelier is a full-service hair salon in Malaysia, perpetrated to consistently provide outstanding customer fulfillment by offering excellent personalized services, quality products, and friendly surroundings at an affordable cost. Aaron Yap and his team are also the appointed stylists for many social and fashion events in Klang Valley.
Hair Atelier is now one of the superior names for hairstyling, spa, and treatments in Petaling Jaya. Our award-winning hair salon has one and only purpose, it is to accomplish the vision of the client and assist each one of them. Hair Atelier's organization and Aaron Yap believe in only one statement- Your dream, our passion!

Our award-winning team

Our creative team members are highly professional and specialized in their fields. Two of our talented team won the following prestigious award-
Nick Tan won the award for the Female Most Stylish Hair Design Award Winner organized by Female Cover Model search.
Summer Neo is appointed as the Top 7 Shiseido Professional Spa Expert Leader.
We strive to be the best hairstylist in Petaling Jaya and our ultimate aim is to ensure our clients leave our salon with a beauty treatment, hairstyle, or color they love! We feel winning these awards is a sign of excellence and shows our clients that we are not just the best at what we do, but we also enjoy doing it.

Why visit our award-winning hair salon in Petaling Jaya?

Our stylists are professionals and understand exactly what you need, so you're in safe hands with us. Here, are the reasons why you need to visit our award-winning hair salon:

Spa pampering journey

Women prefer pampering themselves, and one way of doing it is by visiting our hair salon at Hair Atelier. We provide plenty of services to our clients, including body, hair, and skincare. The scheduling time at the spa for yourself can do more than enhance your physical appearance! Care and maintenance are highly important aspects of daily life, and further enhanced at the spa because they are provided by a professional. It is a perfect solution if you want to look good for a special day or enjoy a relaxing massage. At Hair Atelier, aside from the fact that you will feel and look great, the services available are real assistance to the well-being of your body and mind.

One-to-one professional hair consultation

The foundation of a great hairstyle is consultation. Having a consultation before giving a client a haircut is crucial. It's the foundation and sets the tone for the experience, gives the client confidence and the hairstylist direction. The consultation before your hair appointment is one part that can either make or break you. A good stylist requires assessing all the details about your hair and explaining to the client how they all factor into the haircut. The results are a great haircut and experience. At Hair Atelier we educate our clients about their hair as a significant part of the consultation.

Strict salon SOP

As the SOP guidelines permitted hair salons and hairdressers to open up their business, strict guidelines were imposed that all salons were to abide by to conduct business. Hair Atelier is one of the very few salons in Petaling Jaya, that cares for its clients and has taken the required guidelines with utmost seriousness.

Aroma sensory journey

At Hair Atelier, we offer more than just a haircut—you get an experience! Our salon is the center of transformation and haircare you'll find at no place else, but only at Hair Atelier. When it comes to excellent beauty products, we rely on Aveda and Shiseido to bring you the best. Beauty is so much more than a product and we love Shiseido Professional's eternal promise to turn their concept into an example for environmental leadership around the world. We are a Shiseido Professional salon in Malaysia, here you automatically notice the aromas of nature and earth. Here you will feel rejuvenated, unwind, and refreshed.

International well-known hair products

Our award-winning hair salon has access to top-notch hair product brands like Shiseido Professional, and we deliver our favourite line of formulas that you can use at home. One large part of our hair and beauty service is the use of Shiseido Professional products from top to toe. We use Shiseido Professional as our core products range giving our clients a preferred wellness choice while contributing a little to our environmental and social responsibility. At Hair Atelier, we use authentic and high-quality Shiseido Professional products for the treatments. High-caliber products allow you to continue to pamper yourself between visits to the salon.

Intouch Instyle services

Many of us have lots of responsibilities in life that we neglect to take care of our personal needs. If you want to take a break from your stressful schedule and experience a relaxing, stress-free, and rejuvenating time, you must visit our hair salon. Here at HairAtelier, we pamper you after your stressful day spent in the busy urban life- In Touch! As a professional hair salon, we specialize in elegant hairstyles for any special day, we make sure that you look your best- In Style!

Cozy environment

Orderliness is paramount for any good salon. It should at least be well lit and tidy from the floors to the equipment and items used on you. You will feel more comfortable in a salon that shows a little effort from the side of the management. The environment should generally make you feel at ease and give the staff confidence as they work. At Hair Atelier you will feel very comfortable and relish our cozy environment.

Our Achievements

What sets HairAtelier apart from the others? Together with his talented and creative team, Aaron has earned many local & foreign hairdressing awards. Recognition for his excellent reputation has lead to interviews by major nationwide newspapers, appearances on TV such as NTV7 breakfast show and Nona, TV3 as well as numerous beauty magazines such as Marie Claire, Wanita, New Tide, Style, Women's Weekly, Citta Bella, h4u4me, etc. Hair Atelier has won the SME Most Emerging Award, PAMM International Cosmetology Award, and Best Production Hair Salon Award for having the best service and also using the best hair products. HairAtelier has won awards for three consecutive years for, Best Service Excellence Award - 2017/2018, Best Service Salon Quality Gold Award - 2018/2019, and Best Colors Award - 2019/2020.

At the award-winning hair salon HairAtelier, our hairstylists are focused on helping you achieve the perfect look you've always wanted. This is why we listen closely to your beauty vision while providing the advice and expertise you need to make the best decisions. Our honesty helps us create the look you need to keep wowing everyone. Additionally, we also provide services that keep your hair fresh and healthy so that you can look good without sacrificing your well-being. If you are seeking elegance, sophistication, and beauty we can help you achieve this with some of the best hair professionals around. As much as we want to give you a look that wows the room, we're also committed to providing your hair with healthy solutions, and we always care about the integrity of your hair. Whatever style you leave with you will step out of our doors with a brand-new look that satisfies you and a guaranteed smile on your face. For more information visit our official website

Find our Petaling Jaya salon here- 39G, Block C, Jaya One, Jalan Universiti, Jaya One Building, Petaling Jaya, 46200 Petaling Jaya, Selangor.